Endorse your company with WTS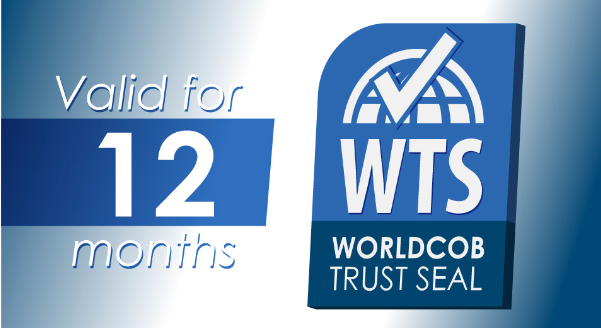 Endorse your company with WTS
WORLDCOB TRUST SEAL is a 'Business Trust Seal', created by the World Confederation of Businesses – WORLDCOB, with presence in more than 130 countries and more than 3500 active members, so that, through this process, the legal existence of a company in its country of origin is verified and its commercial operation is proven.
https://www.youtube.com/watch?v=U6wFhKZHkKI
This seal of corporate trust is a key tool to ensure the transparency and accountability of companies in the market. In addition, the process to obtain the WTS is very simple and you can do it online through the web www.worldcobtrustseal.com, fill in the registration form, complete the verification questionnaire and ready, if your company meets the requirements you will receive the WTS in your email, with a validity of 12 months.
This process ensures that companies comply with regulations and compliance standards, and that they operate in an ethical and transparent manner, which confirms the legal existence of a company and its compliance with legal and ethical standards.
The importance of having a business trustmark cannot be underestimated, especially in an increasingly globalized and competitive environment. Consumers and investors are increasingly looking for information about the companies they interact with, and the business trust seal provides them with the assurance that they are dealing with a responsible and reliable company.
In addition, the WTS is a key element in improving confidence in the marketplace and fostering a sustainable economy. Companies that comply with legal and ethical standards are more likely to contribute to sustainable development and be a good corporate citizen.
In short, the corporate trustmark is an essential tool to ensure transparency and accountability in the marketplace, and to foster a sustainable and responsible economy. We are therefore proud to offer this tool to our customers and look forward to contributing to the creation of a fairer and more equitable marketplace.
Visit now www.worldcobtrustseal.com for more information