"Kazakh Tourism": This is a great opportunity for our country to host such a significant event as THE BIZZ EUROASIA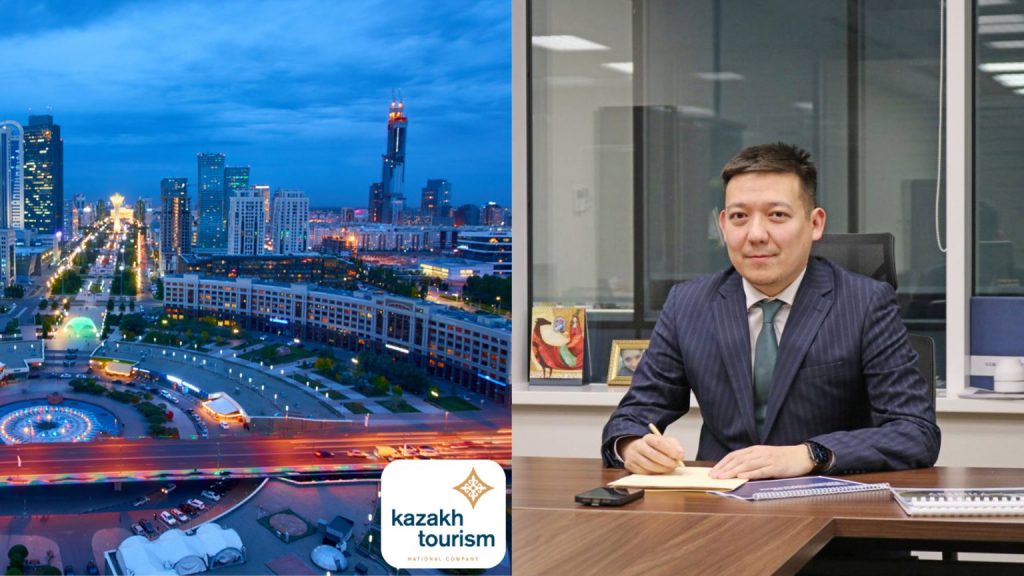 "Kazakh Tourism": This is a great opportunity for our country to host such a significant event as THE BIZZ EUROASIA
The company "Kazakh Tourism" of Kazakhstan is a company recognized in the continent of Asia for promoting tourism in their country. This time this company will be in charge of organizing THE BIZZ EURASIA event to be held from May 25 to 28, 2023 in Nur-Sultan, Kazakhstan.
In this interview with Talgat Zholdymuratovich Amanbayev (President), we learn more about the company's background and its intentions to promote tourism and business opportunities in Kazakhstan through THE BIZZ EURASIA event. 
For how many years has Kazakh Tourism been a leader in promoting Tourism in Kazakhstan?
"Kazakh Tourism" National Company" JSC was established in 2017 following numerous successful events held in the country in order to continue promotion of Kazakhstan globally as a travel destination.
Kazakh Tourism, being the country's brand manager for tourism and a subsidiary of the Ministry of Culture and Sports, ensures comprehensive and holistic positioning of the country both internationally and domestically.
Kazakh Tourism places its focus on marketing and promotion of the country, attracting investments into tourism, and implementing of the National Tourism Development Strategy until 2025.
Kazakh tourism in its daily activities relies on partnerships and alliances with international travel associations, development organizations, travel trade and media companies.
   

What important events has Kazakhstan hosted in the past?
Kazakhstan is the most preferred convention destination in Central Asia with an excellent MICE infrastructure and a strong local business community and trade. Kazakhstan is the most rapidly developing country in Eurasia. A true leader in the economic and political sense Kazakhstan is also a preferred destination in the region for international events and incentive travel. Astana and Almaty are regional hubs for MICE, which hosted the OSCE Summit (2010), 7th Asian Winter Games (2011), the 28th World Winter Universiade (2017), the World EXPO (2017), PATA Travel Mart (2019), Routes Silk Road (2019) and many other international events.
In terms of revenues/number of visitors, Kazakhstan is the top destination for the different events of international associations, corporate events, and Incentives in the region.  According to the ICCA, 18 events of international associations were held in Kazakhstan, which contributed about 6 mln dollars to the economy. Regarding corporate events and incentive tours, Kazakhstan is one of the most popular countries in the region. Many companies from India, China, Russia, Turkey, and some European countries hold their events in Kazakhstan or send their employees on incentive tours.
As we know, Kazakh Tourism will be in charge of hosting a significant event such as THE BIZZ EUROASIA. How do you intend to promote tourism and business opportunities in Kazakhstan through this event?
Oh sure. This is a great opportunity for our country to host such a significant event as THE BIZZ EUROASIA. It is natural to raise the profile of the country and tourism. We have been working with WorldCob since 2019 and we hope we can make it one of the best events.
Please give us three reasons why you consider it worth visiting Kazakhstan.
4.1. Kazakhstan is the most rapidly developing country in Central Asia. A true leader in the economic and political sense Kazakhstan is also a preferred destination in the region for international events and incentive travel.
4.2. Visa-free Travel and International Access
Citizens of more than 78 countries may visit Kazakhstan without visa. The list of countries enjoying visa exemption to visit Kazakhstan includes India, China, North America, European Union, Gulf countries, South-East Asia, and many others.
4.3. Kazakhstan's major international airports offer direct connections with more than 40 destinations in Europe, the Middle East, and Asia including Delhi, London, Frankfurt, Paris, Moscow, Beijing, Dubai, Istanbul, Seoul, and Tokyo (more opening every year). This makes Kazakhstan a convenient Silk Road and Central Asia gateway.
4.4. Excellent MICE Infrastructure
Kazakhstan's convention centers are able to meet your demand with its wide range of venue choices and off-the-beaten track locations. Major cities boast an array of international hotel brands and landmark buildings which feature state-of-the-art venues, on-site restaurants with sweeping city views. They often have a central location which makes exploring the main sights a breeze. And of course, our diverse landscape scene and untouched natural wonders make the post-event travel a bliss.
4.5. The Variety of a Continent in a Single Country
Kazakhstan – the world's 9th largest by territory and a landlocked country – is a kaleidoscope of landscapes and cultures. Stretching for over 3000 km from the East to the West we are home to more than 130 ethnic groups including Germans, Russians, Koreans, Turks cherishing various traditions, and religions and sharing diverse Central Asian cuisines while living in peace and harmony.
What is the situation in Kazakhstan right now? Especially regarding the war between Russia and Ukraine
Kazakhstan is one of 16 countries with which the Russian Federation borders. Kazakhstan has always adhered to international treaties and remains one of the safest countries in the world.
What kind of exclusive activities will those attending THE BIZZ EUROASIA event be able to enjoy?
We plan to first of all show the richness of our culture, this is one of the most popular musicals in the country. It will be excellent. In addition, we want our delegates to be able not only to visit our country but also to possibly establish new contacts and business. Therefore, we plan to make a b2 b-day where our delegates will be able to find their partners in Kazakhstan.
What are your expectations for THE BIZZ event?
We expect great opportunities for the development of our country. Hosting WorldCob is always a great achievement.
For those still hesitant to travel to Kazakhstan, what would you say to encourage them to visit Astana? 
Kazakhstan is a new fast-growing market with many new growth opportunities for many international companies to grow. Secondly, it is one of the safest countries in the world. Therefore, we will be glad to see everyone in our country.