"Turismo de Lisboa": We are sure the organization will help accelerate the commercial development of the members of WORLDCOB
"Turismo de Lisboa": We are sure the organization will help accelerate the commercial development of the members of WORLDCOB
The company "Turismo de Lisboa " of Lisbon is a company recognized in the continent of Europe for promoting tourism in their country. This time this company will be in charge of organizing THE BIZZ EUROPE event to be held from Agosto 25 & 26, 2023,Corinthia Hotel Lisbon, in Lisboa, Portugal. 
In this interview with Paula Oliveira (Executive Director at Turismo de Lisboa), we learn more about the company's background and its intentions to promote tourism and business opportunities in Lisboa through THE BIZZ EUROPE event. 
For how many years has Turismo de Lisboa been a leader in promoting tourism in Lisbon?
THE LISBON TOURISM ASSOCIATION – VISITORS & CONVENTION BUREAU was established in 1997.
What important events has Lisbon hosted in the past?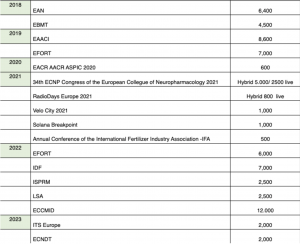 As we know, Turismo de Lisboa will be in charge of hosting such an important event as THE BIZZ EUROPE. How do you plan to promote tourism and business opportunities in Lisbon through this event?
W
e are sure the organization will help accelerate the commercial development of the members of the organization, WORLDCOB provides a suite of world-class services to the global business community through the following brand
4.
Tell us three reasons why you think it is worth visiting Lisbon?
If you're dreaming about your next trip to Europe, come and discover Lisbon, a historical city full of stories to tell, where the sun shines 290 days a year and the temperature rarely drops below 15oC. A city where you feel safe wandering around day or night, where the cuisine is dedicated to creating over a thousand ways to cook the beloved bacalhau (salted cod), and where you'll find hotels and restaurants to suit every taste, budget and requirement. Discover Lisbon, a city full of authenticity where old customs and ancient history intermix with cultural entertainment and hi-tech innovation. Lisbon is ageless, but it loves company, as you'll find out if you meet someone and ask them to explain, with lots of gestures and repetition, where the best place is to listen to Fado. After all, Lisbon is famous for its hospitality and the family-like way it welcomes visitors.
What kind of exclusive activities will the attendees of THE BIZZ EUROPE be able to enjoy?
The event program is organized by you,
but here are some suggestions available to all:
https://www.visitlisboa.com/en/c/sightseeing-and-activities
https://www.visitlisboa.com/en/p/heritage-culture
https://www.visitlisboa.com/en/p/lisbon-flavours
https://www.visitlisboa.com/en/c/shopping-and-categories
What are your expectations for THE BIZZ event?
Following your moto:
for WORLDCOB is to build a global business organization that brings together and recognizes business leaders who stimulate the economic growth of their countries through their business successes. That is the inspiration behind the international award "THE BIZZ", through which deserving winners are conferred a range of benefits that help to further accelerate their development.